Weekly poll: are secondary screens useful?
Uncategorized
July 30, 2017,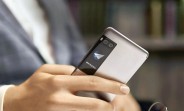 The Meizu Pro 7 Plus was unveiled this week with a secondary screen on its back. It's not the first rear-mounted display – there have been interesting efforts like the e-Ink back of the YotaPhone – but they never caught on.
And there is, of course, LG V20 with a secondary screen on the front, but we think positioning makes all the difference. An Always On display could have covered half the functions of V20's secondary screen. But a screen on the back lets you check notifications even when the phone is face down.
And it lets you snap selfies with the main camera, which typically has…
#gadgetbingo
You must log in to post a comment.