Essential PH-1 now officially supported on Verizon
September 16, 2017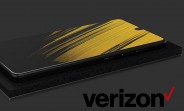 Just after Essential hosted an AMA on Reddit where customers and fans asked their most riveting questions about the smartphone startup, Andy Rubin confirmed that the Essential PH-1 is now officially compatible with Verizon's network.
Wouldn't you know it, Andy Rubin tweeted out the following on Friday evening.
Update: Verizon certification complete. Thanks for your patience. Might need to reboot your phone. Happy Friday!— Andy Rubin (@Arubin) September 16, 2017
In fact, just Thursday, Andy Rubin replied to a question in Essential's Reddit AMA about Verizon compatibility by…
#gadgetbingo
You must log in to post a comment.