Deal: get a refurbished Amazon Echo for $80 – new Echo speaker on the way?
September 16, 2017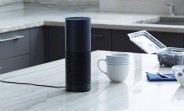 Amazon's voice assistant, Alexa, has become increasingly popular, particularly when the entry level of the always-listening device dropped to $50 with the launch of the second generation Echo Dot last year.
If you've been happy with the miniaturized version and are ready to add a full-sized one for it's room-filling speakers, now is a great time to purchase an Amazon Echo.
Amazon is selling a Certified Refurbished Amazon Echo in black or white for $80, which is a pretty steep discount considering that a brand-new one costs $180 and this Refurbished one usually goes for $145. Amazon…
#gadgetbingo
You must log in to post a comment.