Bezelless Sharp FS8010 and FS8016 to arrive on July 17
June 30, 2017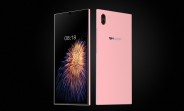 Sharp did the whole 'nearly bezelless' thing in the smartphone world way before the Xiaomi Mi Mix made it cool last year. And now the Japanese company is getting ready to take things to the next level, if a new rumor out of China is accurate.
An unnamed source has revealed that Sharp will launch two devices that will be very close to the Mi Mix in terms of design, just with a much smaller chin. The FS8010 and FS8016 will be identical in all respects but one – the chipset chosen to power them.
While the FS8016 will go with the Snapdragon 660, the FS8010 will settle for the Snapdragon…
#gadgetbingo
You must log in to post a comment.