Apple quietly increases the price of the iPad Pro
September 13, 2017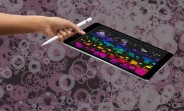 Apple unveiled cool new phones yesterday, but while the Apple Store was closed another change occurred – a price increase for the iPad Pros. Yes, the 256GB and 512GB of both the iPad Pro 10.5 and the iPad Pro 12.9 have gone up by at least $50 (the price hike is bigger in Europe). The prices of the 64GB models are unchanged.
Check out the table below for the new prices – we pulled the old ones from the yesteday's snapshot of the store at the Internet Archive. Note that these prices are for the Wi-Fi model, but the cellular-enabled tablets received a similar bump in price.
iPad…
#gadgetbingo
You must log in to post a comment.